2011 NBA Playoffs Preview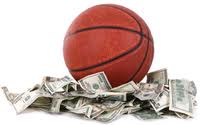 The NBA Playoffs are here and sharps aka professional bettors have been talking about a few teams they feel are overvalued heading into the NBA Playoffs. I'll break down the first round matchups and we'll also get an in-depth take from my oddsmaker contact on what kind of general feel he has on the 2011 NBA Playoffs.
Eastern Conference
#1 Chicago Bulls(49-31-2 ATS O/U 35-47) vs #8 Indiana Pacers (38-42-2 ATS O/U 37-45)
Bulls 3-1 ATS vs Pacers this year
Over/Under 2-2 this year
My Power Rating: Bulls 96.65 Pacers 88.45
My Oddsmaker Power Rating: Bulls 95 Pacers 87
#4 Orlando Magic(35-46-1 ATS O/U34-46-2) vs #5 Atlanta Hawks (37-45 ATS O/U 34-46-2)
Hawks 4-0 ATS vs Magic this year
Over/Under 0-4 this year
My Power Rating: Magic 94.95 Hawks 88.85
My Oddsmaker Power Rating: Magic 91 Hawks 86
#3 Boston Celtics (38-42-2 ATS O/U 37-44-1) vs #6 NY Knicks (46-34-2 ATS O/U 42-39-1)
Celtics 2-2 ATS vs Knicks this year
Over/Under 3-1 this year
My Power Rating: Celtics 94.85 Knicks 90.35
My Oddsmaker Power Rating: Celtics 92 Knicks 89
#2 Miami Heat (40-41-1 ATS O/U 41-40-1) vs #Philadelphia 76'ers (46-35-1 ATS O/U 40-42)
Heat 2-1 ATS vs 76'ers this year
Over/Under 1-2 this year
My Power Rating: Heat 96.75 76'ers 91
My Oddsmaker Power Rating: Heat 95 76'ers 88
Western Conference
#1San Antonio Spurs (44-36-2 ATS O/U 46-36) vs #8 Memphis Grizzlies (52-29-1 ATS O/U 41-41 O/U)
Spurs 0-4 ATS vs Grizzlies this year
Over/Under 3-1 this year
My Power Rating: Spurs 95.75 Grizzlies 92.65
My Oddsmaker Power Rating: Spurs 93 Grizzlies 90
#4 Oklahoma City Thunder (43-38-1 ATS O/U 45-37) vs #5 Denver Nuggets (44-34-4 ATS O/U 37-42-3)
Thunder 3-1 ATS vs Nuggets this year
Over/Under 1-3 this year
My Power Rating: Thunder 93.75 Nuggets 94.65
My Oddsmaker Power Rating: Thunder 93 Nuggets 92
#3 Dallas Mavericks (44-36-2 ATS O/U 46-35-1 ) vs #6 Portland Trailblazers (43-36-3 ATS O/U 38-43-1)
Mavericks 1-3 ATS vs Trailblazers this year
Over/Under 3-1 this year
My Power Rating: Mavericks 94.35 Trailblazers 92
My Oddsmaker Power Rating: Mavericks 92 Trailblazers 90
#2 Los Angeles Lakers (39-42-1 ATS O/U 33-49) vs #7 New Orleans Hornets (39-41-2 ATS O/U 31-51)
Lakers 3-1 ATS vs Hornets this year
Over/Under 3-1 this year
My Power Rating: 96 Hornets 91.45
My Oddsmaker Power Rating: Lakers 95 Hornets 88
Interview w/an Oddsmaker
Q:Given your position as an oddsmaker in Vegas what is your take personally on the NBA marketplace heading into the playoffs and also what sharps aka professional gamblers have been saying about the up coming playoffs?
A: "Like we spoke about the other day I feel the Heat and Bulls are in a league of their own in the Eastern Conference. Danny Ainge really screwed up the chemistry of the Celtics with the Perkins trade. Rebounding is very important and I don't think this team is strong enough on the boards to beat the Bulls or Heat. You also have to factor in the age of the Celtics three superstars into that equation. The younger teams like Miami and Chicago have an edge over Boston in a 7 game series. Sharps around my sportsbook feel the same way and the Heat and the Bulls are the two popular choices out of the Eastern Conference. A few really sharp guys I respect all agreed that regardless or record or seeding that the Heat are the team to beat out of the Eastern Conference.
The Western Conference I personally feel the Lakers are still the best team. My own personal and computer generated power ratings tell me the same exact thing that the Lakers are #1 in the West. Sharps generally don't like betting on the Lakers because as with all powerhouse teams they feel they are being taxed to bet on them. The Spurs are not as good as their record indicates. I've watched a lot of their games and they are not a championship caliber team. They do not play good defense and I think Memphis gives them a very competitive Round 1 series. Myself and a lot of sharps I've spoke with all feel that the Nuggets or Thunder are very capable of knocking them out in Round 2. The chat around my sportsbook is sharps have the Thunder as the sleeper to come out of the Western Conference. I've actually taken an overwhelming amount of sharp money on them to win the West. Also as I've been telling you when we speak daily that sharps love the Trailblazers right now and have been riding them heavy of late. They have covered 15 of their last 22 heading into the playoffs. The most popular Round 1 series winner I've taken from sharps is definitely the Trailblazers over the Mavericks."
Q: Do you feel the Trailblazers are good enough to knock off the Mavericks? What about the Thunder as the Dark Horse out of the West? Do you agree?
A:" Looking at power ratings strictly I'd say the Mavericks are still a tad better. I think this series goes to the final game but Dallas prevails ultimately because of the home court edge. I don't think Portland is going to beat Dallas on the road but I think they beat them both games in Portland. The Thunder are a Dark Horse if you want to get technical. I do think they are better than Dallas and can beat San Antonio. I still don't think they are good enough to knock off the Lakers if Bynum returns anywhere near 100% by the Western Conference Finals. "
Q. Earlier you said Sharps generally don't like to bet on the Lakers because they feel they are being taxed. Is that true that you add a tax on to the Lakers this time of year? Are any other teams out there "taxed" ?
A. "Due to our proximity to Los Angeles we do get a large amount of Lakers fans here in Vegas this time of year putting money on the Lakers, and like any marquee teams there is a slight tax. As you know we take power ratings and add three points for home court advantage in the NBA . We also factor in many other things such as algorhythms, injuries, and so much more other variables. A team like the Lakers will generally receive a 1 or 2 point tax after the final line is made. Depending on public betting paterns and how the Bulls and Heat look, one or both of them may get taxed also in the playoffs. We try not to overdo it because we know sharps will sniff out any value they can find. So we do have to protect ourselves from sharps by not taxing too heavily."
Q. So generally speaking there is no value betting on the Lakers throughout the Playoffs even if you feel they're going to win the whole thing?

A."In retrospect no there isn't any value betting the Lakers the whole way through. They're a great team but you aren't getting any value in the number when we release lines on them. Like any other marketplace investing in sports betting is all about value, so betting on the Lakers isn't where the value is to be honest. If anything the other team is getting about 1 or 2 extra points of value in most cases so you can argue they have the value. I remember working in this industry in the 90's and we'd have to tax the Jordan era Bulls 2 or even 3 points this time of the year. The Lakers are a 95 in my power ratings but have been playing more like a 87 or 88 this month just to make note of."
Q. What's your take on the Atlanta Hawks who are the #5 seed because I noticed you have them as lowest rated team in the Eastern Conference?
A. "I've been saying all season this team has never been the same since last year when the Magic routed them in the playoffs. Funny thing is they have beat the Magic three times this year and covered the spread in every game. If you look at the 8.5 point spread for the opener it is a very large margin for a #4 vs $5 seed. If J.J. Reddick is healthy he will be the X factor here. I think the Hawks are playing like a team who has thrown in the towel to be honest and yes they are more like a #8 seed in terms of power ratings."
Q. Any chance the Knicks can pull off the unthinkable and beat the Celtics in Round One?
A. "No way. Knicks are just too sloppy on the defensive side of the ball. I'm sure they will win one game in New York but this team is a year or two away from being a legit threat in the Eastern Conference. Amare will give the Celtics a lot of trouble on the glass though. It should be a good series but New York will let Boston to get into offensive rhythms and that will cause too many problems for them. Once Boston heats up the offensive attack led by Rondo it's tough to stop."

Q. Any final tips or want to make a prediction on who wins it all?
A. "I really can't say who wins it all yet. It's between Miami, Chicago, and the Lakers right now. The Lakers are 1-3 against both of those teams this year. This maybe the year the Eastern Conference takes the Title home. If Bynum isn't close to 100% is the variable I have to see before I can make any predictions."
I have my own opinions on the NBA Playoffs and last year I was the #1 NBA Handicapper in the 2010 NBA Playoffs at several monitoring services for money earned and win % with over 75% winners! This year I'm right back in effect as I'm having another Top 10 Monitored and Documented NBA season with 48.30 Units of Profit earned for my clients and I. Get on board with me from now through June right here at the site or calling me direct at the office at (757) 462-9030 as I look to dominate the books in the NBA Playoffs again!
.